Prof. Kate Holliday, Architecture, was invited by the Library to choose an item to add to the Library's collection on the occasion of their Promotion to Associate Professor with Tenure.
Prof. Holliday chose The New Encyclopedia of Southern Culture: Art & Architecture by Judith H. Bonner and Estill Curtis Pennington, Chapel Hill, NC: University of North Carolina Press, 2013.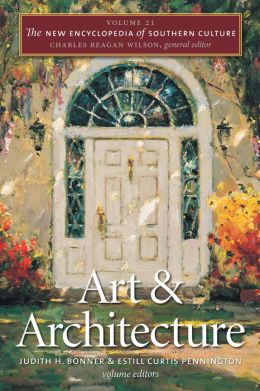 Prof. Holliday's remarks on this item:
"One of the great joys of being an architectural historian is using my academic perspective to learn more about the place that I now live and work. The Encyclopedia of Southern Culture was a ground-breaking volume when it first appeared in 1989, and it was one of the books that sparked my interest in regional architecture, art, and culture as a college student. As a contributor to the volume on art and architecture in the new multi-volume edition, I have been struck by the depth of critical thinking that continues to grow as we learn more about the forces that have shaped the American South, including Texas. Perhaps as a new generation of students browses its pages, they too will be inspired to learn more about the places we live in and move through every day. "